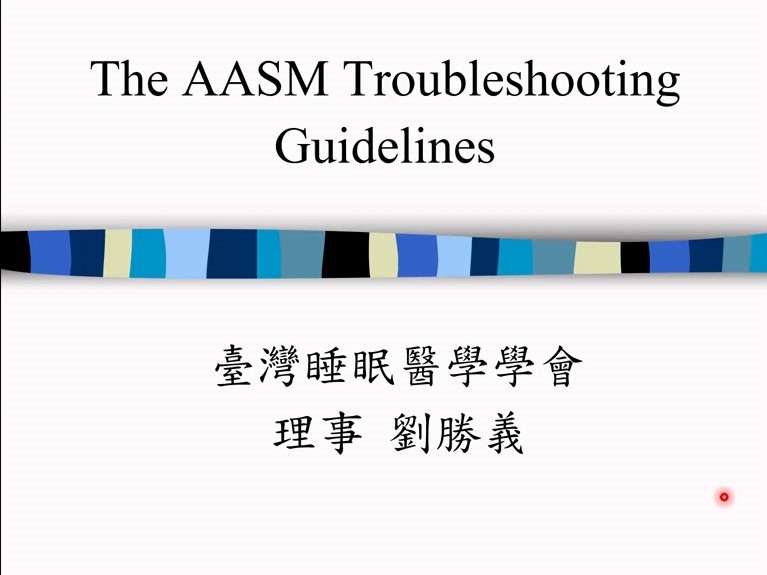 The AASM Troubleshooting Guidelines
劉勝義 技師
Artifacts are extraneous signals, appearing within any of the recorded parameters of the polysomnogram. These signals may originate from the patient's body, from recording instruments and devices used on the patient, or from the surrounding environment.
Most of artifacts are undesirable and can severely impede the scoring and interpretation. These may include 60Hz powerline frequency, slow frequency artifact, electrode popping artifact, excessive ECG potentials recorded in the EEG and EOG channels and various mixed frequencies unrelated to patient physiology, recorded within any of the channels.
The AASM Troubleshooting Guidelines provides a systematic approach to identify and correct artifacts that could interfere with the collection and interpretation of the data. It suggests this word LACES to identify a variety of different artifacts and to correct the cause or source of the artifacts. Each letter stands for a step in the systematic approach. L=Location, A=Application, C=Connection, E=Equipment, S=Settings. By using the LACES method we can fix any problems and produce clean, high quality recordings.
To obtain an accurate polysomnogram, the AASM Troubleshooting Guidelines must be very helpful to individuals who are training to become registered sleep technologists and those interested in improving their knowledge and skills in the field of clinical polysomnographic technology.